Interested in working with me?
Energy checking immersion
This is a focused time to take your energy checking skills to the next level. Immerse yourself in practicing Energy Checking with 30 videos delivered over 3 months that help you build your skill and familiarity with the tool. These videos are 9 hours of me sharing key aspects of Energy Checking that lay the foundation for your own practice. There is ample one-on-one support that you have 9 months to use. The group support gives you insights into how others are using and progressing with Energy Checking. All of this together helps you take your skills to the Unraveling-Divine-Mysteries level. This is where it really gets fun.
It includes:
540 minutes of one-on-one support

Use this individualized support however it will best support you, whether that is 9 weekly hour-long sessions, shorter 20 minute segments or a mix of both. You have up to 9 month to redeem these sessions. You can also use them as quickly as you'd like.

Use this time to:

Systematically work through the blocks that keep you from wholeheartedly trusting the information you receive and refine the questions you ask. I will pull out all the tools at my disposal to help you do this.

Clarify a question or get practical, on the fly accompaniment as you use Energy Checking in the moment.

When you master the art of asking the questions that LOVE has for you, you're 90% there. This flexible structure allows you to get Energy Checking accompaniment in the midst of a real-life situation, which is the best way to learn how to use it. Think of it like training wheels that steady you in your real world application of Energy Checking. No question too small, no question too big! (well, it might be too big, but we can break it down and figure it out, easy!) This program gives you ample opportunities to hop on the phone with me while you're at the grocery store deciding what to make for dinner, determining the right dosage for your supplements, figuring out how to maintain the boundaries you've set, wondering whether it's in your highest interest to call that person back or trying to Energy Checking your way out of a downward spiral of negativity and anxiety. Ultimately, this is about having a reunion with your highest self, your essence, which is always in the presence of the divine being loved, instructed and guided. ($2,250)

Custom flower essences remedy, when indicated

We'll talk about how you're feeling right now: emotionally, spiritually, mentally and physically. We talk about the states of being you want to call in; the things you'd like more support around and the shifts you'd like to make. Then, together, we'll pick out individual flower essences using Energy Checking. We'll discuss the individual essences as they come up. The archetypal description of each essence stirs a knowing inside of you. It feels good to put language to the vague feelings and tired patterns you're ready to stop playing out. The awareness wakes you up. We'll keep selecting essences and we keep discussing them until the remedy is complete. You do your own Energy Checking to guide the process. We hang up the phone and soon after, you receive a PDF that describes all the flowers in your unique remedy. You take your time reading it and your awareness of where you are and what is possible grows. Three days later an adorable care package arrives in the mail FOR YOU. In it is the bottle of your unique flower essence remedy, instructions on how to take it, what to expect as your being responds to the flower essences and a DIY art project that helps you reflect on where you currently are so you can track the ways you shift over the next month of daily doses of this vibrational medicine. And a love note. There's always a love note.

We'll both Energy Check to see if it is in your system's highest interest to be supported by Flower Essences right now. If not, we'll keep checking over the nine month program to see when Flower Essences would be JUST THE THING. Initial formulation is a separate session, and includes two formula adjustments and refills mailed to you. ($357)

3 Energy Checking Storytelling Hours (group zoom call)

These are open Q&A sessions. So bring your questions, bring your stories of victory, bring your challenges and I'll get to as many questions as I can. You'll be joined by folks who have done or are doing this immersion experience so you can learn from people who are a little further down the path of using Energy Checking in their own lives. These calls don't have a structured teaching element. Bring your questions and celebrations and we'll take it from there! These calls happen monthly. ($291)

Over 30 video lessons delivered to your inbox. These videos are like sitting down with me for a fun casual conversation where I share all different facets of Energy Checking to help you build your skill and confidence with this tool. Over 10 hours of conversation! ($497)

Trouble-shooting guide + Catalogue of Energy Checking Questions to help you move through some of the most common sticking points people experience as they begin Energy Checking and learn the art of asking questions. ($97)
A care package of my most favorite things to support your Energy Checking practice. Beautiful, useful and delightful! ($75)
Individually, these components are valued at $3,567
Your Investment: $2,000
payment plans available
Energy Checking Accompaniment SessionS
Energy checking accompaniment
Not ready to dive into the immersion program quite yet? Test the waters with sessions à la carte. This is for the person who is jamming along with Energy Checking in their own life, and hits a snag. You're getting both yeses and noes and you can't make heads or tails of it. This usually means there is another question that needs to be asked. I will accompany you in your own Energy Checking to get to the bottom of the question you have brought to the session. I will use all the tools I have in my service to assist you in dissolving the untruths you carry within yourself, allowing you to come into a different perspective about your current situation that invites possibility. These 60 min accompaniment sessions are what my clients credit most with their own advancement with Energy Checking. It can make all the difference to have this mirroring in building your own skill set.
Investment: $250
Package of 3 sessions: $675
Here's How to Get started: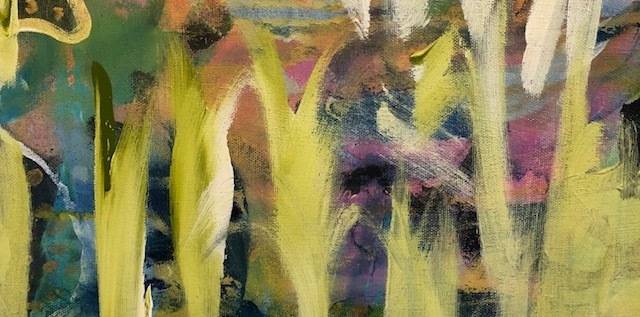 Step 1. Schedule a complimentary, no-obligation consult. You can do that right here.
Step 2. Watch your email for questions from me. Before we hop on the phone, I'd like to know a bit about you and what you'd like to get out of working with me.
Step 3. Hit "reply" to that email and answer the questions.
Step 4. At the scheduled time of your consult, we'll consult! We'll use the opportunity to make sure we're the perfect fit before you commit.
Step 5. Then we'll get started! If you decide to work with me, I'll tell you the exact steps for getting started. If you decide not to work with me or if we aren't a perfect fit, I'm happy to share other resources to help you get what you need.
Have questions? Email me: Kathryn at Lucatelli dot org